My old blog

December 12:th-11
To Media, sponsors, supporters and friends I've spent the last 15 years in triathlon and have many great memories. I've had the opportunity to cycle across the USA, Sweden and New Zealand; trained and competed in Australia, much of the U.S., Brazil, Canada, China, and Europe. I have worked out in the sunshine, blizzards, sandstorms, you name it! I've been tired, had blisters on my feet, blisters on my ass and met many great people from all over the world.

After all that it's time to move on!

I have in recent years been willing to change direction if I found something that means as much to me as competing in triathlon. Now that I have spent a year working as a trainer / coach for others, I feel that I have finally found what I want to do in the next phase of my life.

Leaving a career as an elite active will always be difficult, there is no more glorious feeling than to be in top shape and feel immortal on the racetrack. However, everything has an end and this is a nice transition to something that I enjoy just as much.

This past year, I had the privilege to help many Ironman athletes meet their goals and dreams. Helping others gave me a huge kick, and I have had the opportunity to inspire people as a lecturer. Given the conflict between doing my absolute best as an elite athlete and working as a coach/speaker, I am making the decision to focus on the next phase of my life.

Looking back there are a few results which bring me satisfaction:

1. Being the Swedish Ironman record holder in a time of 8:15 hours

2. Coming back in 2009 to a high level of racing after several years of severe burn-out. In that season I was fortunate to win the Swedish Ironman Championship and set a new course record.

3. 2nd place at Ironman New Zealand in 2004 and Ironman UK in 2006, where I set run course records which still stand today, 2:42 and 2:44 hrs. (This after the 3860 m swim, and 180 K bike)

4. Early in my career, winning my age group, junior class, on the fabled Ironman competition in hawaii in 2002, also the unofficial World Championships over the Ironman distance. That year I was nominated for Best Newcomer at the Swedish Sports Gala, great for both me and Swedish Triathlon.

5. Five Swedish Championship Gold in Duathlon (running, cycling, running)

We'll see if the future gives me inspiration to sum up my journey so far in book form .... but until then you will see me with a stopwatch in my hand, or up on stage with a headset on, because that's where I will use my energy in the near future..

I will keep you posted about the future on my website (www.clasbjorling.com). There's also information if you want to book me as a lecturer or have me as your coach...

Thanks for all the support over the years! Whether it was with equipment, $ $ $ $ or cheering, it has meant a lot to my success!

Train hard, but smart!
Take care,
Clas "The Baron" Bjorling
---
November 13:th-11
The picture is from a 2.7 K hilltop race in the area where I live, finished in 4:th. Pretty happy with that as my training now a days are not near as hard or fast to do really well in these kind of short races. But I won the race 3 years in a row 10 years ago when I just did ALL OUT training 3-4 days a week, but now 12 Ironmans later I'm not as fast, but hopefully stronger with more endurance for a 8 hour race instead or 12 minutes :)
My coaching and lecture business are going well, I have a nice team of athletes to work with for next year...but I have room for a few more so if you want my help to work towards your goals and dreams in sport just let me know. Just send me an email clasbjorling@hotmail.com
Train hard, but smart !!
/Clas
---
August 22:nd-11
Sitting on the plane home from France, was here on an 8 day camp with friends from all over the world. Last time I ran a camp with them was when we 1.5 years ago ran a 2-week camp where we biked from the northern tip of NZ to the southern tip, so it was a welcome return. These camps known as the Epic Camp are always about training a lot and push your limits but also socialize and have fun in the meantime. For more info and pictures etc. see www.epiccamp.com, my Facebook page, but I will also try to get some pictures on this page under the link pictures. I was a little unsure of my shape before I came to this camp because I haven't been training much swimming, cycling and running this year, just been riding my dirtbike a lot ... .. but it would appear that it's very good training because I was able to hang on pretty good on the first days and then became even stronger through the camp. So now I sit here and am very pleased with how the body responded. Was around 50 hours of training over eight days spread over the swimming, cycling and running, but just cycling account for most of the hour, was about 1070 K in the saddle, and a total of approximately 20,000 meters of altitude climbing on the bike, so there was noeasy Ks. We rode some of the classic climbs that are included in Tour de France ... we rode almost one or two long climbs a day where you sit, or stand, and ride uphill for about 1 hour, and because we had a camp competition for most of the climbs it was great intensity during the week as well. Now I just have to take it easy a few days so the body can recover and become even stronger. Something that definitely helped me to get my body and mind to respond well to the stress I put on it, and help me to recover, is the supplements I'm using from Nuskin. I have taken them for 7-8 months now and feel a big difference in how the body responds ... so are you interested in hearing more about them, please contact me so I can send more info or would you just read a bit yourself, click on the link above "Do you use want to use the same products as I do" and look up Vitality, Marine Omega and LifePak ...
Because the body have responded so well I'm starting to get excited to maybe race this year after all ... I told you after last season that I would take a year break this year from hard training and racing to concentrate on coaching and lectures to give the body a chance for a longer period to recover ... and it's great to see that it paid off ... so we'll see if there might be some race this fall. ... but otherwise it will be to get into a good training rutine and build up for next season when I hope to be on the starting line for an Ironman again.
//Clas
---
July 24:th-11
Another month have past by since last update... I have after an intense winter / spring with a lot of camps as a coach and lectures at home been able to relax for a few weeks now, from the end of Aug so begins the fall to slowly fill up with work so I enjoy for now just to take each day as it comes now.
Before I got to take it easy I was the race director for a new triathlon race. The distance was half Ironman and I must say that both participants and spectators were pleased with the competition, sure there are always little things to improve in, but we were very pleased to be the first year, and as it looks now there will be a continuation of contest in 2012 and beyond.
I'm riding my dirtbike a few days a week or doing other training even though the focus this year is just to relax and just train for health and fun... and it feels good, but of course I want to train my ass off but I stick to my plan and just relax this year.
Some of those that I coach have run their main event of the season and so far it's 10 out of 10 when it comes to fulfilling their goals of the race that we made up when we started working together last fall / winter, really fun to feel involved in other people's success and something I definitely will continue, so do you want my help to work towards your goals and dreams in life, do not hesitate to contact me ...
I will also continue to hold lectures about stress and balance in life so please let me know if you are interested to set something up....
I also continue to work with Nuskin as I love their products, please get in touch if you are interested in testing
Think it's all for now, I will write a new update when I know more what the fall and winter will bring with jobs and training.
Until then I wish you a continued great summer!
/ / Clas
---
June 12:th-11
June already, glorious times.
My throat has healed up nicely since I removed the tonsils five weeks ago, started training a little after that, then crashed on my dirtbike and had to go to the emergency room with a concussion and injured shoulder .. but now things clear up again, glad I'm not going to do any serious racing this year so I have time to mess around a bit like this:) What a great time anyway ..
Have had some more really fun lectures and also worked on with the coaching. Was also on a youth camp in the triathlon to finish up my project that I have been working through the Swedish Triathlon Federation on to try to find new talents to the sport, and of course if I finish something I have to start something new so I have decided (which in itself was an easy decision) to begin working with the company that I had the sponsorship of supplementation with since January and felt and seen the results I never had from earlier products, the company are called NuSkin and work with anti-aging. Get in touch if you want me to come and do a demo ...
I was down in France last week over three days to attend a convention with them and gave a lecture and showed got insight into the company when I got to meet the leaders and several of the researchers behind the products, so damn exciting and goes completely in sync with what I already do, inspire and help people get more out of their lives .... and it's easy because I'm so impressed by the products, both those who work on the outside and inside. This is the future!
Next week I'm down in the south of Sweden to have a lecture and to attend a camp, then waiting midsummer and the rest of the summer!
I hope you are living your dream !! If not, please le t me help you ;)
All the best !!
Clas
---
May 11:th-11
Finally the warm weather have arrived over here in Sweden, we have had some really nice days with 20-22 C and I guess more are to come as the summer arrives....
Since last update I have been one last time this spring to the Canarian Island Fuerteventura, mainly as a coach to some age groupers but spme of them are pretty fast so I get some good training too. Not that it really matters as I have told myself to not race this year, but I still love training and it's always fun to do it with some other guys too.
4 days ago I did a surgery to remove my tonsils which have caused me a lot of trouble over the last few years with throat infections, hopefully this will be the end if it so I can put my body under some stress without getting a sore throat....if you want to improve in sport you have to be able to train well week after week and with all this infections I couldnt do that, but hopefully by taking this year off from racing and really hard training, and removed my tonsils, I will be able to start serious trining next winter and have great races many years to come.
Now I have 2 weeks very easy to let me throat heal up, then there are some camps here in Sweden which I will join as a coach, other then that I have my athletes that I coach and I do some lectures every now and then where I talked about stress, balance in life, training, racing......and when I really feel like going out and get myself a workout and take my dirtbike out on the track for a few hours and that will take the restlessness away for a few days :)
Guess your races are starting to come up now and I wish you the best of luck with them and I would love to read your race report so please send me an email with that one...
Be good,
Clas
---
March 30:th-11
Just a brief update that the Swedish version of Outside just released its special Trainingmagazine that is published once a year, and I'm on the cover :)
Not sure if they send it outside Sweden but if you want to try just klick on the link http://shop.outsideonline.se/tidningar/outside/outside-traning-2011.html
Cheers,
Clas
---
March 29:th-11
Now I'm back home again after a camp in Portugal with a swedish travel company and Runners World, the camp was great, was about 200 amatuer Runners there so I got to meet a lot of great people. I was mainly there as a coach which worked great and I really enjoyed it, hopefully I get to do more of these things in the future.
Now I have a few lectutres planned and of course keep my coaching rolling, but I will be home for 3 weeks which will be nice as I have been traveling a lot over the last few month, but end of April I head to Fuerteventura again for a 10 weeks camp with some amatures and the swedish junior team, will be fun !
Cheers,
Clas
---
March 19:th-11
Im about to pack my bags and travel to Portugal tomorrow for a trainingcamp with Springtime / Runners World. Particular, it will be there as a coach, but hope to have time for some swim and bike training too.
Will as always be fun to get away and meet new people, then I have never been in Portugal so it becomes a new needle in my world map on the wall when I get home.
A few days ago I came home from a snowmobile trip in Funäsdalen, been there for 4 days, also one of my favorite things to do. Great sense of freedom to be able to ride over the mountain in brilliant sunshine, very relaxed from what I normally do with training, coaching and lectures. Even though I think it also is awesome fun and inspiring, it's always good to get some breaks now and then and encourage any other sense.
Otherwise, it rolls on with good coaching, great fun to bring my experience in training and racing on. Have also had some lectures since I wrote last and just as with the coaching, it is something that I really like and even though my job is to inspire others and make wise choices in life, I get myself inspired to meet so many people who are open to my thoughts and ideas.
With that said, it is now time to pack my bags, hoping to get some pictures from Portugal on my facebook page as.
Cheers
Clas
---
February 19:th-11
I'm back on Fuerteventura for another trainingcamp, here for 2 weeks this time, we came last sunday so we have already been here almost a week, great training i good weather. If you want to train in Europe from December to March this is the place to be.
My coaching and lectures are going well too, and it's nice to have other things then just my own training to focus on, with that said it's time for another ride :))
Cheers /Clas
---
January 23:rd-11
It's sad but true !
Epic Camp France 2011, the last Epic Camp ever. This will be you last chance to train along with Hawaii World Champion and triathlete legend Scott Molina in an Epic Camp. Epic Camp started out 2003 and I happy to have been able to attend most of them, it's a life changing experiance and this will be the last ever Epic Camp so don't miss out. I will be there, and I hope to see you there too, it will be something special !!
Everything have an end, and so also Epic Camp.
I still remember my very first Epic Camp 2003 over in New Zealand, it was Gordo Byrn and Scott Molinas idea to come up with something special, and they did. I have won races, placed well in races and broken records over the last 10 years, and that's great of course. But what I remember the most are all this fun, crazy camps we have done, it just takes you to a new place mentaly and physically.
So if you are willing to take yourself to a new level and train all day long in France with Scott and a lot of other crazy guys, don't think about it, just sign up. I will be there, will you??
Until next time, take care,
Clas
---
January 16:th-11
On my way home from a great traningcamp on the Canarian Island Fuerteventura. Went here with the Swedish junior team and a group of age groupers. Was great training weather with 20 C and a big sun. Now I will spend a month at home before I head here for 2 weeks in end of February...
If you want to see some pictures please see my facebook page.
Cheers for now,
Clas
---
December 22:nd-10
Almost Christmas and the end of 2010, but we still have a wonderful week a head of us before we can sum up 2010 so lets stay in the moment for another week before we do that.
Last New Years Eve I was on a plane on my way to New Zealand for the Epic Camp where we did the lenght of NZ, what a great camp with great people, I have no plans to be on a plane this year. My plan is to celebrate Christmas and New Year at home with friends and family before I Jan 9:th head to Fuerteventura and the training resort Playitas for a one week camp with the Swedish Triathlon Federation, mainly as a coach but hopefully I will be able to put in some good training myself.
The last month have gone well with the coaching, lectures and my own training. We have also gotten a lot of snow so I have done some great rides on my snowmobile, if you haven't seen the pictures just look at my facebook page.
For me it only remains to wish you a Merry Christmas and a Happy New Year.
See you in 2011 :))
Take care,
Clas
---
November 18:th-10
So the snow have already arrived here in the middle of Sweden where I live, November have been a pretty sunny month so far. We have already had some great days with a big sun and 10 below, winter isn't to bad after all :)
I started training a little about a month ago and it feels good to be going again, will try my best to be patient and don't over do it. I'm doing lectures and started coaching a few month ago so that will help me to focus on something else then just my own training and I really like it too, it's a lot of fun to use all the experience to help other people to work towards their goals in life.
I will spend the rest of November and December in Sweden but already in January I have a camp planned on Fuerteventura which have this great trainingresort in Playitas http://www.playitas.info/ .
Cheers for now,
Clas
---
October 12:th-10
My 3 weeks in the States with my sister are starting to run out, going back to Sweden tomorrow to hold some lectures. First we had 2 great weeks in Florida where we visited Kennedy Space Center, Universal Studios, Walt Disney World, Key West, Alligator Park and Miami. The last week we have spent here in NY ( or more NJ ), where my sister friend are working as an au pair for a year. Here in NY we have spent a few days down town Manhattan and seen Ground Zero, Statue of Liberty, Empire State Building and Madame Tussauds, also done Western riding.
Hopefully I will be back soon in the States for some serious training and racing, even if it's nice to take it easy on the beach now and then too :)
I have got my coaching going as well so that's a lot of fun, I have spent a lot of time training and racing with the best in the world so it's nice to be able to use that experience to help others work towards there dreams.
I have continued to take time off from training and my body responding well so my plan to take up serious training later in the year seems to go as planned.
Cheers for now,
Clas
---
September 21:st-10
Hi all.
Another month have passed since my last update and a few positive things have happend. First of all I have been really good at taking it easy so my body are slowly getting stronger again, have done some bacteria tests in the hospital but it didn't show anything so Dr Morgan Camp who I'm working with seems to be right that I have had an viral infection since April when I got very sick and the virus have just drained my body through the summer which finally forced me to take a longer break.
But as I said, I'm feeling better so good food, plenty of sleep and right supplements seems to be the right thing.
I have also got my coaching going, have a few athletes that I'm helping out, a lot of fun to use my knowledge and experience in the sport to help other athletes work towards their goals and dreams. I have a few spots left so if you are interested to get my help just send me an email and we can talk more.
Last weekend I went to Copenhagen to do a lecture with Nordic Clinic about functional medicin, my first lecture in english, but it went pretty ok, so if you are interested to sign me up for a lecture where I can talk about elite training, overtraining, adrenal burnout, work towards goals..... just send me an email.
A few weeks ago I also went to Stockholm to see Gordo, he was there for a few days to race Island to Island with Jonas Colting, it was great to hang out even if it was just for a day.
Tomorrow I'm off to Florida for a 2 week roadtrip with my sister, then we end with a week in NY, will be great to get some warm weather again, starting to get pretty cold here in Sweden.
Hopefully I will put some photos from Florida on my facebook page so keep an eye open.
Until next time,
Take care,
Clas
---
August 18:th-10
Hi all.
Haven't been updating my site for a while, no real excuses for that but I have been sick alot since middle of april and lost to much training to be able to compete on the level I want this year, so I have decided to take the rest of the season off to give my body some rest to heal up. Don't want to do the same misstace as 4 years ago. The positive side of this is that I get to spend more time with my lectures and I'm also going to start coaching here in Sweden, something I have thought about for some time and now I think is the right time to start. This will give me an income and also something else then my own body to focus on which I'm sure will speed up my recovery so I soon will be back training and racing on the highest level again.
A few weeks ago I went to Norway to visit my bikesponsor www.ceepo.com, and the guy also has a holiday place in a very beautiful area of Norway, see more at http://www.laerdalferiepark.com/ . I put some photos from my trip there on my facebook page, so take a look there if you want to see how gorgeous it is there.
Last week I went to the forrest and picked 40 liter of blueberry, just love the swedish woods where you can go where ever you want and just pick these fantastic berries. So now I have enough antioxidants for another year, and hopefully they will help to speed up my recovery :))
Even if I want be racing any more this year I'm still looking for partners that will work with me in any way, now and in the future because I will be back out there soon again :), so if you have some great ideas how we can work togheter dont hesitate to contact me.
Thinks that's all for now.
Take care,
Clas
---
June 6:th-10
I'm now healthy again after catching a cold 1.5 week ago, just before the Swedish duathlon Championships which really sucked. I was in good shape and was looking forward to be fightning in the front for the gold, but I guess one is always on the edge to get a cold or injury when you are in shape so I should probably have skipped the last hard workout to be sure, but it's always easy to say afterwards and to improve one have to train hard too so it's hard to know what is right at that moment.
Now I'm just looking forward to get into a good training rutine again and look forward.
Next weekend I'm heading down to the south of Sweden to help Jonas Colting out during his tri camp, will be fun to hang out for a few days again.
Yesterday I had a lecture for some nutritionists, not that I know more about nutrition then what they do but because none of them where elit athletes I could give them some insight in what I eat around and in my training and racing which I think is great, because some things you can learn from books, but I think it's always good to also see what works in action and we are all different. Then I of course also took the opportunity to tell them my story how I went from completely burned out to last year, 3 years later, win and set a new course record at the Swedish Ironman Championship, my biggest victory ever. Som people just give up their dreams, or never even really try because they think they will never reach them, but I hope by telling people my story there is no dream that can not me reach, it's all about how badly you want it. Have done quite a few lectures this winter and spring and hope to do more of them in the fall when I don't focus as much on training and racing.
I have a new bikesponsor for this year, it's Ceepo, see more at www.ceepo.com , Ceepo have just triathlon bikes so as a roadbike and mountainbike I have Poison which make really nice bikes too, have had some great rides in the woods on my mtb, I use to ride motocross when I was younger so I like the feeling of riding in the woods but I also tthink mtb training is a really good complement to be on the TT bike.
Not so much else to tell, hope to stay healthy now so I can look forward and work towards my goals.
Keep smiling !
//Clas
---
Chosen as the Swedish Male Triathlete of 2009
I just want to share the news that I was chosen as the Swedish Male Triathlete of 2009 by the Swedish Triathlon Federation. I was selected because of my comeback, and for setting the course record and winning the Gold at the Swedish Ironman distance Championship last year.
The first time I was honored with this award was after the 2006 season when I set the Swedish Ironman distance record, and this was just before I fell over the edge. Winning this award again in 2009 means even more to me now, after working so hard to recover and come back from those several years of adrenal burnout.
I see this achievement as a sign that I have made it back to the top of the sport, and I'm looking forward to making my international comeback at the Challenge Copenhagen race on August 15, 2010.
Thank you all for your supoort.
Take care,
Clas
---
Maj 4:th-10
Time for a new update.
Had a few days off when I came home from Spain 3 weeks ago, then I did a few hard days of training, then I got hit with high fever for a week, not sure what it was, but probably have had something in my body for long that I had been pushing away with big training, but now when I took it easy it all came out. But I took 11 days off and felt great.
Last Saturday I did the first race for this season, a 10 K cross country running race. Felt little sluggish in the beginning but about halfway through a found a good rythm and could pick up the pace a little and got a gap that I could hold to the finish. Always nice to get the first race out of the way and now I have a good finish position that I just keep in all the other races during the coming season :))
Did my first serious long run today, like to warm up for 10 K then work on different speeds over a 26 K rolling loop I have, great IM run training, hopefully I will be able to get another 7-8 of this in the legs before Challenge Copenhagen Aug 15:th, and with some swim and biketraining as well that might make it for a fun day down there.
Okey, time to go and put the legs up again.
//Clas
---
http://vimeo.com/10391098
Promotion movie for Clas Bjorling as a examinationtest at school
April 14:th-10
Now I'm back home again after another great 2 week camp in Spain. This time I went to Benicasim, it's a town 70 K north of Valencia along the cost. Went there with some swedish triahletes so I had great company during all the long rides. The landscape was hilly so I got a lot of good strenght work in as well.
We had a 25 m pool and a gym at the hotel which made it easy to get that training in as well. The running are never really good at this places but for 2 weeks it was okey. It was the first time I was training in this area but I will probably return for some great basetraining there next year.
Now I'm having an easier week before I start my next trainingblock which will include more intensity and less volyme......starting to be time to turn this slow diesel engine into a powerful V12 :)
Take care,
Clas
---
March 16:th-10
Time for a new update.
Have been busy with training, sponsorwork and lectures the last month but now I have a trainingweek by myself up in the Swedish mountains so finally I get some time to updated you what is happning in my life, if you now find that interesting :)
After Epic NZ I took it easy for a few weeks but then went to Lanzarote for a 2 week camp with Bjorn Andersson and Jocke Berggren. Had 2 really good weeks where I was able to get stronger throughout the camp.
When I came home I had an easier week from training but did other work, then last weekend I did the classic 90 K cross country ski race in Sweden called Vasaloppet. Haven't been skiing much this winter so the last 30 K was very hard but I got a good training session, ended up in 380:th place something out of 15000 in a time of 4.53 hours.
Then last week I did a lot of lectures but a few days ago I drove up here to Hotell Tanndalen in the Swedish mountains for 5 days of skiing and mental recharging. I have recovered very well from my adrenal burnout but what still drain me faster is mental "stress", so I have to make sure to have some relaxing time for my head when I have felt busy for a few weeks. But my strategy with 2 big weeks followed by an easier week have worked great so far. Make me able to just focus on training fora few weeks then have a week when I can deal with other stuff without feeling stressed about my training, if I need to take 7 days off that's okej, and that make me feel more relaxed even if I have a lot of work to do that week.
But as time goes on I also feel like I get beter and better to handle mental stress so I'm sure within a year I think I will be able to say that I have recovered to 100% from my burnout 3.5 years ago. Been a long jerney but I have learned a lot.
This weekend I have some more sponsorwork but then I'm heading to Spain with some Swedish triathletes for a 2 week camp, time for a new 2 week block, will be great fun.
Until my next update, take good care of yourself and enjoy your day !
//Clas
---
January 24:th-10
I came back home to Sweden a few days ago, had 48 hours of travelling home from New Zeland, shit it's a long way to but it was worth it. So still today I'm just traying to come through the day without naping, 12 hours time different is not easy to get used to in a few days :)
Think I set some kind of movie record for myself during my flights home. Started out with "Enemy at the gates", then Michael Jacksons "This is it" and the comedy "Tropic Thunder". Then some action with "Die Hard 4" or "Live free or Die hard" as the title is.
Finished off with "Inglourious Basterds" with Brad Pitt and the wilderness movie "Into the wild", so a packed movie trip.
Even if I was tempted to stay for longer in Chirstchurch after the camp I decided in the last minute to stick with my plan at go home to recover from this camp for a few weeks, then go to Spain when I feel ready again.
I have to be very happy what I was able to achieve in NZ and that I was able to go there at all instead of just wanting more and more..... which is a natural instinct I guess but I have learned that sometimes it's good to take a step back and just feel good about what we have achieved.
But the way I feel now I will definately go back to NZ for a few month training next year, they have a really good swim group in Christchurch and my swimming is what I will be focusing on for 2011 to be able to go very fast.
What did I achieve in NZ?
-I was able to get 15 days of GREAT training, the first week we did had over 50 hours of training, my biggest week ever, almost 100 hours in 15 days.
-I got to see and hang out with friends that I haven't seen for 4 years or more.
-I got to meet new friends.
-I got to spend time on places where Kristy and I use to train, and where we had our first dates, which actually afterwards have brought a little more peace to my heart.
-I got to spend time with friends that also knew Kristy well, which also was very nice, got me even closer to her when I was there.
-I got to ride through the lenght of NZ, a beautiful country.
-I got to meet new friends, that I will for sure train with again in the future.
-Now after the camp I'm even more confident that I'm on the right path to full health and more success in triathlon. And confident make me relaxed, and when I'm relaxed I recover better, and when I recover better I can train more, and when I train more I get faster and stronger.
-I got to win the KOM jersey, what a bonus.
-I got a nice tan :)
Not bad to achieve so much in only 3 week trip, guess we always achieve things but normaly we don't spend time thinking about what we have done because we are to busy wanting more and more AND more. And that's okey but I think, or know, that sometimes it's important to just sit back, relax, and tell oneself that we did a great job ! before we head towards next thing in life...... so thats wher I'm at the moment :))
Thanks you all at the epiccamp team, crew and campers, for making my camp an enjoyable one, one that I will for always remember by joy. Hopefully there will be some pictures on this site from the trip soon.
Until next time,
Take care,
Clas
---
Here's a clip that appeared on Prime news last week in NZ about the first few days at Epic Camp.
http://www.youtube.com/watch?v=1zvgmsPfaRg&feature=player_embedded
---
January 1:st
We have now finished 9 out of 15 days in the epic camp, today was an easier day where we took the ferry for 3 hours to the south island, so now we have just one island left :)
The first 7 days I trained 50 hours, most of them on the bike but even swimming and running every day. The first 7 days we rode 1180 K, and it will be about the same the 2:nd week as well.
I took over the KOM ( king of the mountain jersey ) from Gordo yesterday after been putting in a good effort in the KOM climb for the day.
If you want to read the campers blogs please see www.epiccamp.com , I'm sure there are many great stories there.
Cheers for now,
Clas
---
January 5:th-10
Hi all !
After my great week of training in Fuertevetura before Christmas I decided to go to New Zealand to take part in the epic camp that John Newson, Gordo Byrn and Scott Molina have put on. This is a little different epiccamp because the main thing is to ride from the very north to the very south of the country, about 2300 K over 15 days, and we will also run and swim almost every day.
I'm a little late with my update so we have already finished 3 days of the camp, but it's still many days to come so if you want to follow the camp look at the epic camp website www.epiccamp.com where you can find many bloggs that people that are doing the camp are writing.
Now it's time for sleep to get ready for another 7 hour day tomorrow.
Cheers for now,
Clas
---
December 21:st-09
I'm on the train towards home in Sweden from the airport after a great one week camp on the Canarian Island Fuerteventura.
I stayed at a great place in Las Playitas http://www.playitas.info/ .
The roads where great for riding with little traffic and good asfalt. The island is a bit windy but you get used to it in a few days and if you ride in the hilly part of the island it doesn't effect you as much.
It also was an outdoor 50 m pool which was great to swim a few laps in after many hours on the bike. I also manage some running so all in all it was a great week early in the basetraining.
Now I will have an easy Christmasweek before I get a new training block started after New Year, and until then I wish you a Merry Christmas and a Happy New Year.
Cheers for now,
Clas
---
December 1:st-09
Started training again 2 weeks ago and are now in the swedish hills for a one week camp, a lot of skiing but also some mountainbiking and running. It's so nice here with all the snow, skiing is a great way to start up ones training and to get a good base before moving into more tri specific training later in the winter.
Even if I live in the middle of Sweden it has mostly been raining the last month so it's nice to get a break from that. Even if it's a lot colder up here it's a lot easier to get good training done when you are not getting wet from the rain all the time.... and to be able to stay here at hotel Tänndalen http://www.hotelltanndalen.se/ where they serve great food and the stuff are great just make everything even better.
In a few weeks I will go to the canarian islands www.playitas.info for a one week camp with mostly bike focus, will be nice to get some good quality riding in but I already look forward to come up here after New Year for some more skiing.
I will keep you updated how things goes...
Take care,
Clas
---
October 19:th-09
Back to Sweden after a holiday week in Turkey and before that a week in the swedish mountains where I got to experience the first snow of the year. It's awazing how we can go from mountains,cold and snow to +35 degress celcius, beach and amburella drinks in just a few hours..... :)
I'm still enjoying my easy weeks after the season, the first week I was very tired but now my energy are slowly starting to build up but I will have a few more easy weeks before I start to think about a training schedule again.
I will start to build up a team with sponsors next week so if you are intersted to be in the team please send me an email and we talk more.... we will achieve great things togheter.
Another Ironman World Championship is over and it looked like it was another tough race as always in Hawaii, I hope to be back there in a few years again to race. Last time I raced was 2004 and I was in really great shape but went to hard the first hours of the race and blew myself up, my goal was to go top 10 and I had fitness for it but I never gave myself the chance by going to hard, but that's how it is sometimes, atleast I didn't go to easy, but IM is all about pacing.... okey, not all about pacing but you know what I mean... :))
Okey, time to get another hot chocolate and put my legs up.
Take care,
Clas
---
September 27:th-09
Came back home to Sweden a few days ago from my trip to China for an adventure race with a Swedish team. After been racing well for the first 2 days and was on a 4:th place overall in a very competitive field we had to drop out of the race before we even started day 3. Both Eva and myself had been throwing up badly through the night and had nothing left in our boddies to even start the race, and we also had fever and I would never start a race being so sick, I have been away from the sport for almost 3 years because I didn't listen to my body and if I injured myself again because if being stuped I would never forgive myself, so even if it was very hard to drop out when we have been putting so much into the race I don't regret what we did.
Now I will enjoy a good 4 to 6 weeks with very easy, if any, training. I'm very happy with the results from this season, I have taken a big step up from last year in my overall health which my win and course record at the Swedish Ironman Championship shows and with a good break now and smart training for next season I hope to be able to take another step up to next season. I'm very excited to see what the next few years will bring when it comes to training and racing.
Even if I will take it easy with training in the next month I will start working with building a support team for next year, so if you want to work with me in some way for next year pleased don't hesitate to contact me and we can talk more, clasbjorling@hotmail.com .
Think thats all for now, enjoy life and I will write more soon again.
Take care,
Clas
---
September 18:th-09
I'm in China for an adventure race, follow the race in this site http://www.wulongquest.com/
I'm here with 3 other swedish guys, Martin Flinta, Eva Nystrom and Andreas Svanebo
They will do some updates on theirs site/blogg, mainly in Swedish but it might be some nice pictures from the race....
Not sure how much energy I will have to write during the race days, but I will write more when the race is finished.
The race is 4 days. The 1:st day is a prolog, about an hour race, and day 2 to 4 is 6 to 8 hours each so we will be out there for some time.
http://blogg.andreassvanebo.se/ is Andreas blog
http://www.evanystrom.com/ is Evas website.
Take care
Clas
---
September 6:th-09
Hi All.
Yesterday I raced the Swedish Championship in duathlon and finished 3:rd.
I have 5 gold medals from this Championship earlier and of course I was hoping for another Gold but it's late in the season and I raced a hard 4.5 hour mountainbike race last weekend which I now afterwards see that I had not been able to recover from.
I ran with the front group the first 6 K and even if it was a pace that I normaly should be able to hold I slowly started to feel the lactate build up in my legs and I had to slow down a little. Once on the bike my legs didn't feel but better so I thought of dropping out but I'm glad I continued as I was able to get the bronze after been digging very very deep as it was close to 4:th place, see results below. Even if I didn't come there for a bronze medal I'm still very happy and very proud over myself that I kept fighting even if my legs had nothing this day, this bronze medal represent the deep instinct I have to never give up, this time it resulted in a bronze medal but overall it's about to take my back to the top of the sport in Ironman after 3 years of overtraining and adrenal burnout which my Gold medal and course record at the Swedish Championship over the Ironmandistance about a month ago represent. Now I will take 10 days pretty easy before I head to China for a 4 day adventure stage race with a Swedish team, will be a lot of fun. That will be my last race for the season before I will take a big break and make a plan for next year. As I have no real contracts for next year please don't hesitate to contact me if you want to work with/sponsor me for the coming years...... we will build up to something great togheter.
Top 5: 10.4K run 40K bike 5.2K run Total
1.Fredrik Swanh 33.28 1.02.21 17.59 1.53.48
2.Andreas Svanebo 34.02 1.05.50 18.20 1.58.12
3.ClasBjörling 34.37 1.06.48 17.52 1.59.17
4.Erik Wickström 35.03 1.06.32 18.01 1.59.36
5.Alexander Eiler 36.10 1.06.19 19.44 2.02.13
Take care,
Clas
---
August 25-09
My recovery from Kalmar have gone well and I'm now getting ready for the Swedish duathlon Champs September 5:th, will be a lot of fun.
I found this link saved in my old emails http://www.byrn.org/TransUSA/tusa.htm , it's from Gordos and my trip cross US, a lot of great memories came back when I look through the pictures and read some of the blogg. It's like the Tour of Sweden I did in the spring, but much bigger. Hope I will be bale to do something similar in the future. A great way to see some asphalt :))
If you have a few hours spare time, look at the link, it's just great.
Take care,
Clas
---
It was 3 years ago since I raced my last Ironman, it was Ironman UK and I finished 2:nd. The race itself went well but the weeks after that race my body slowly started show serious signals of fatigued but I had more plans for the season and tried to ignore them, so my fatigue just grew deeper and deeper and 3 month later I couldn't even move out of bed, I was seriously overtrianed and burned out. What I didn't know then was that it was going to take almost 3 years before I was strong enough to be on an Ironman start line again.
It was in January earlier this year where my body started to be strong enough so I could do some good training days, but still followed by many recovery days, but as the winter and spring went by I have been able to train a little bit more and my fitness have slowly grown.
It was 6 weeks ago that I decided to race this Ironman distance race in Sweden that also works as the Swedish Championship over that distance. I have not raced this Swedish Ironman before as I have just raced international Ironmen but as the Swedish Ironmandistance record holder it would of course be fun to be the Swedish champion in that distance as well.
The last weeks training leading up to the race had gone well, I had got some very good workouts from my long term friend and training buddy Gordo Byrn to get myself in my best shape possible.
My last minute preparation went well and I felt very relaxed and ready so when the gun went off at 7 am I was happy to finally be moving. The swim was 2 laps on a 1930 m course. I got into a good group after a few hundreds meters but due to the waves I lost the group in the end of the first lap and swam the 2:nd lap by myself, overall the swim splits were slow due to the waves and current but I was a little surprised that I used 1.01 for the swimleg and I lost some more time then I expected to the guys in front but didn't care to much about that as I just tried to focus on my own race. The bike course was a 30 K out and back loop that we rode 3 times, so 180 K total. We got to meet each other many times and I saw that I just lose some time to the race leader Ted As but was closing in or kept the gap to most other guys. I rode very controlled and kept my HR between 140 to 145.
After a bike split of 4.34 it was finally time to get into my running shoes. I was now in 5:th place, just a few minutes up to 2:nd but 14.5 minutes up to 1:st place. The run course was a 7 K out and back loop that we ran 3 times, so total 42.2 K.
I quickly fell into a comfortable pace and put the K:s behind me. After 10 K I ran myself into 2:nd place and I just felt better and better, after 2 of the 3 loops I was 7 minutes behind the race leader, and as I felt like my 2:nd place was safe as no one was closing in from behind and I decided to give it a go and try to catch Ted in the lead. I knew I had to close most of the gap going out to the last turnaround as I knew that when he was going to try to speed up the last leg home to the finish when we saw that I was closing, so I put the hammer down and ran hard out to the turnaround with 7 K to the finish. I was now only 1.38 minutes back, and just as I thought he would do he kind of panicked and speed up as much as he could, but I manage to catch him with 3 K to go, and just when I caught up op him he tried to drop me by doing a last surge, but by now my adrenaline was pumping so I had no problems to follow, and after 300 to 400 m I was able to put in a surge and I got a small gap, and when this happened I just kept running as hard as I could and the gap grew quickly, but even if people on the side of the road said my victory looked safe I was in some kind of out of body experience and just kept running hard, it's funny how it works, when you run along in some kind of medium pace you feel every pain in your feet and muscles, but when you come in a situation like I was in now you don't feel anything at all, you are just so focused on pushing yourself that you don't feel anything or nothing can disturb your focus. I don't remember so much from these last K:s running, I just kind of woke up when I had crossed the finish line and I was so happy, it's still hard for me to put my feelings in word (and it's not because English is my 2:nd language ) . It has been 3 long years of suffering from overtraining, adrenal burnout, by long-time girlfriend Kristy Gough death…. It have just felt like it would never end, and even if a victory like this doesn't change some things it does feel like it's a little revenge for the things that I have gone through over the last years and Kristy will always have a special place in my heart.
It also shows that if you really believe in what you are doing and want something very badly you can achieve it even if the odds are working against you.
Even if I of course was very happy to be winning the race, get the Gold medal in the Swedish Championship and set a new course record in a time of 8.26 in this 15 year old race the biggest victory was still just the fact that I have gotten my health back and was able to finish an Ironman again, and hopefully I will be able to finish my Ironmans again in the future and if I place well and break records that will be a big bonus  . If I can just keep training and racing with my heart instead of my ego the results will come too !!
What also was very fun at the race was that the Swedish Paralympics gold medallist swimmer Anders Olsson www.jarnmannen.com raced his first Ironman and finished in a fantastic time of 10.51, now he will try to qualify for Ironman Hawaii next year.
Now it's almost a week since I past that finish line and I'm starting to be able to set back and relax a little, the media exposure here in Sweden have been good after the race as none really have thought I would be able to come back to the top of the sport when I got so badly fatigued and sick. Now I'm just enjoying some easy weeks before I will get into a training routine for an adventure race in China in the end of September with a Swedish team, will be a lot of fun. After that race I will probably take an end of the season break before I start my training for next year and my international Ironman comeback.
If you want to see full results with lap splits see this link http://apps.svensktriathlon.org/competitionresults.asp?type=details&competition_id=271&language=1 but here are the top 5 results.
Swim Bike Run Total
1.Clas Björling 1.01.13 4.34.02 2.47.40 8.26.24
2.Ted Ås 55.57 4.26.07 3.04.01 8.28.40
3.Kristian Hallsten 1.06.11 4.31.48 3.03.17 8.44.06
4.David Näsvik 59.51 4.32.36 3.13.34 8.48.32
5.Antti Antonov 58.55 4.48.53 2.58.03 8.48.47
I want to finish this report by sending a big hug to my family, friends, fans, sponsors and everyone else that are supporting me, even if it was myself that did the work on race day it wouldn't have been possible for me to be there if it wasn't for the you in the support group, so Thank You, I'm so grateful for your support.
Race with your heart !
Clas
---
June 11:th-09
Sitting in the car on my way down to the south of Sweden, Borås, to help Colting out with his triathlon camp he is organising over the weekend, will be a lot of fun.
Last weekend involved a lot of racing, first the 10 K running race in tuesday, then I had 3 very easy days to make sure to recover from the tour, then on saturday I ran a 4.5 K race in Mockfjärd, won easily but good training, then on sunday I did a 65 K mountainbike race, was a lot of fun, finished 5:th in Men 30-39, had a flat tire half way.......but that seems to be part of mountainbike racing :) , then monday easy but on tuesday I did another local mountainbike race, 20 K, finished 2:nd.
I just love to race and are very happy to be back out in these races even if they are just training races for what to come..... which I'm for now are not sure what.. :))
Take care,
Clas
---
June 2:nd-09
After one day of rest after the Tour of Sweden I did today a 10.2 K road running race, it went well and I finished 2:nd and had surprising fresh legs. I passed the 10 K mark at 32.50 min and the course was a little rolling with some sharp turns so I'm happy with the time and my performance, now I will enjoy a few easier days again :))
Take care,
Clas
---
June 1:st-09
Now I'm on my flight to Stockholm from Kiruna where we finished"Tour of Sweden" yesterday, or the bikeleg of the tour actually ended in Kilpisjarvi, and from there 3 of us ran the last 12 K into the mountains to see and be at the point where Norway, Finland and Sweden comes together, that place is called Treriksroset. So that run ended the 2 week tour through Sweden, but first we had to run the 12 K back to Kilpisjarvi where we met the other campers and drove in a minivan the 280 K to nearest big city, which are Kiruna, so we could fly home today.
The camp was a great experience, I got 2 great weeks of great training and it's always fun to be able to spend some time with my friends but also to get to meet other none pro athletes and see how they grow and push theirs limit every day.
For you that haven't followed the camp you can read the daily reports on www.slowtwitch.com .
Now I will have an easier week before I get back into a good training routine to get ready for some bigger races, the only big race I have decided to do so far is an adventure race in China in end of September but I will probably also do an Ironman before or after that but which one I have not decided yet, first I will enjoy an easier week as I just mentioned, but I will let you now what race I will be doing as soon as I decide.
Have a great week,
Cheers for now,
Clas
---
May 25:th-09
Hi all.
8 days down, 6 to go of the Tour of Sweden www.slowtwitch.com 1500 K of riding over the first 8 day and some swimming and running as well, starting to feel that I have been exercising a little :)
Tomorrow we will have a day off from riding and "just" do some swimming and running before we head off for the last 5 day on the bike on Wednesday, will finish in the very north of Sweden on sunday, and hopefully the nice weather we had will continue so we don't have to ride in the snow the last days :))
Think thats all for now, time to sleep :)
Take care,
Clas
---
May 15:th-09
I'm now on a train down to Kopenhagen to spend the rest of this week with my girlfriend and to get ready for "Tour of Sweden" that starts on monday, will be a lot of fun, ride, run and swim for 2 weeks through Sweden with some of my best friends....., 2 of them you can see on the picture, Björn and Colting. You will be able to follow the tour with daily updates on http://www.slowtwitch.com/and hopefully I will be able to do a few updates here as well.
Yesterday I had a talk about training, racing, overtraining, burnout and everything around that and what it's like to be a pro athlete, it was about 120 people that where there to listen and I think everyone was pleased with my talk, always hard to please everyone but I think everyone got something good out of it and this is something I hope to do more in the future as I feel like I have learned a big lesson from my overtraining/burnout and if I can help other people/athletes to not do the same misstace it's a good thing.
Since my last update that I wrote when I just came back home from China I have done a few running races, first out was 4 K cross country race, shit, these races are hard, for me it's like an all out sprint, it's great training and really open your system up :) , I finished 5:th in a time of 12.06 min. Next up was a 10 K cross country race, this distance suited me better and I felt good and won in a time of 32.48 min. I really like to use these smaller races to get some great speedwork done and I hope to do more of these after the Tour.
I also hope to attend the epiccamp www.epiccamp.com that is next up on theirs agenda, an epiccamp through the entire length of New Zealand, I have been training in NZ many times and know this is going to be, as all epiccamps are, once in a life time experience. If you want to read more about it I pasted a text in the end of this update, don't even think about it, sign up now, you won't regret it, it will be a lot of fun, train through a wonderful landscape for 16 days togheter with some unique athletes from the sport like Gordo and Molina, and maybe myself included :)) And when you enter the camp, say hi to the guys from me and you might get a bonus :)
Okey, that enough for now, it's nap time :))
//Clas
Going Long, Very long – Epic Camp length of New Zealand 2010.
Only a few athletes can say they have traversed New Zealand – here is your opportunity to join this select group. Epic Camp New Zealand will start at top of the North Island at Cape Reinga and cover over 2200 km in 16 days before reaching Bluff at the bottom of the South Island. "Since I began racing long course triathlons this has been on my hit list and I can't wait to see the spectacular parts of New Zealand I have yet to explore" comments camp organiser John Newsom.
Over the past six years Epic Camps have been run in France, Italy, Hawaii, USA, Australia and New Zealand. In that time the Epic Crew have learned what makes athletes tick and most importantly the support they require to get through camps of this nature "Imagine training like a pro for 15 days whilst taking in breathtaking scenery. Epic Camp is all that and more. Every possible need you have is looked after. I've done 4 camps and I have no doubt that every single athlete who has been on the camps will testify to the fact that there is no possible way they could do that volume or intensity of training without the Epic Camp support and atmosphere. Bonds you form with other athletes are special ones that will last a lifetime. To sum up the camp in Aussie speak - its way too much fun to be legal." Says Australian Kona qualifier Andrew Charles Scott Molina is looking forward to the experience "I love this country! There's still plenty of it that I haven't seen so this is a great opportunity for me to share the experience and take on the challenge with the type of people I enjoy being around most – fellow Epic Campers."
Completing an Epic Camp is as much about mental toughness as ability. To qualify you need to have a strong cycling background and be able to ride a sub 5hr30 bike split at Ironman (or similar equivalent). On top of that you need to have an attitude that is going to get you out of bed every day to complete the mission.
The camp will start at Cape Reinga on January 2nd and departures will be from Invercargill on January 18th. There will be 14 days of riding with average daily distances being 150km. On top of the riding athletes will be 'invited' to swim the equivalent of the cook strait (26km) in some great open water locations such as Lake Taupo and various scenic runs will be included such as in the Tongariro National Park and at 90 mile beach.
If you would like to find out more information on this unique opportunity please visit www.epiccamp.com
---
May 1:st-09
Hi all.
Yesterday I came back home after finished 2:nd in a international multisport race in China called 2009 Baise Outdoor Quest. It's a 3 day race where you race 5-7 hours a day in running, mountain biking and kayaking, with some more technical things like abseiling, net climbing and cave running. I raced with 2 other Swedish guys named Martin Flinta and Per Boqvist and a NZ based girl named Fleur Pawsey, our team name was Team Sweden/worldofmultisport.com The race included 5 international teams and 15 Chinese teams.
It was the first multisport race for me and it was a lot of fun, I felt strong during the whole race, I have had good training through the Swedish winter with a lot of cross country skiing and I also just came home from a 3 week camp in Spain just before the race in China. Now I'm enjoying a few easier days before I head back into a training routine.
Next thing up for me will be "Tour of Sweden" which is a training camp where we will ride the length of Sweden over 2 weeks, 2300 K,plus swimming and running of course, will be a lot of fun. After that camp I will probably start to be in pretty good shape and be ready for some real triathlon racing.
Below you can read 2:nd and 3:rd day report from Fleur and attached are a few pic from the race.
Cheers for now,
//Clas
Pictures from the race: http://www.8264.com/topic/1248.html
Day 2
The first two days of racing at the Baise Outdoor Quest in Baise County, China, have brought plenty of action for athletes. Fifteen Chinese and five international teams are competing in the three day stage race, and it looks like Team Vibram 2000 have the race all but sewn up with a solid lead, followed by Team Sweden/Worldofmultisport.com. Day one began with a biathlon through Le Ye town and into the hills beyond, followed by a mountainbike to the first abseiling section of the race. Next came the highlight of the day, 3km underground running through two large caves. Tight passages opened out into large caverns with stunning rock formations. The race ended with a challenging and technical 7km run to the finish, with plenty of steep climbing and descending. The kayaks came out for the first time on day two. Teams started by rank at 30 second intervals, and Team Sweden/worldofmultisport.com looked to be gaining on Vibram 2000 until bad luck struck and one of their inflatable boats sprang a leak. What followed was about an hour of lopsided paddling and frantic attempts to communicate with the safety boat, and finally a pump was delivered. Once out of the kayaks it was onto bikes for a ride that turned out to be much longer than expected, providing mental challenge. The final stage was a cross country run, at the end of which one team member had to complete a 180m abseil. With most of the drop free hanging, this was not for the faint hearted!
The final day begins with a bike ride that includes a steep climbing section. Teams will then tackle a 14km run and finish the day with a rafting section. The race isn't over until it's over, so the pace looks to be fast and furious till the end.
Day 3
Racing is over at the Baise Outdoor Quest, and the top two placing have not changed since day one. Team Vibram Sport 2000 has taken out the race over Team Sweden-Worldofmultisport.com. Racing was close on the final day though, with less than 4 minutes separating the two teams.
It was a cold and gloomy start to the day, with steady rain making mountain bike conditions challenging. This was especially so when teams hit a mud and clay track, and many suffered mechanical problems with their bikes. The ride included a stiff 500 meter climb, tough for the legs after two days of hard racing. Next up was a 14km run, mostly on nice single track following a river valley, with the occasional diversion past houses and small cropping farms. Toward the end, two members from each team had to negotiate a climb across a net and up the side of a bridge, a good break for weary legs.
The final stage of the race was a stunning kayak, in a deep river gorge with towering cliffs and misty mountains on either side. While most of the river was slow moving, there were a few small rapids and weirs to keep things fun. The highlight came right at the end, with teams paddling through a cave and under a huge natural rock bridge.
---
April 12:th-09
2 weeks have now passed on my 3 week training camp in Mallorca, Spain. The training have gone very well even if the weather haven't been great.
It have been nice to get some long miles in on the bike, haven't been riding much this winter due to all the skiing and I can feel that on some places :) but I can feel that the skiing is great for cycling so it's nothing wrong with my power.
I'm staying in a house with some other triathletes, it's great to be able to hang out with similar people on camps like this.
Attached is a pictures from a long ride, coffee breaks are great during long rides :))
Now I will enjoy the last week here before I return to Sweden next weekend.
Cheers for now,
Clas
---
March 3:rd-09
March has arrived and I thought it's time for a new update. My training have been going pretty well over the last month and I have even been able to do a few cross country ski races. One was a 45 K race, and the last one I did was a 90 K race called Vasaloppet which I finished in a time of 4.39 hours, it's a VERY famous race in Sweden and the countries around here. My body felt strong both during and now a few days after the race which means that my recovery is getting better and better. I have also been able to go on a snowmobile weekend trip which was a lot of fun, it's like yoga for the soul :)
Now in March I will do less country skiing and more riding as I'm going to Mallorca in the end of the month for a 3 week trainingcamp and have to get my body used to some riding before that. But the cross country skiing have been great training over the winter so I'm in pretty good shape, but it will be nice to put the skies away now and bring the bike out :)
Now it's just a few weeks until the spring will come along here in Sweden, will be great !!
Take care,
Clas
---
January 28:th-09
I just came back home to my little town Mockfjärd after 2 great weeks of training in the Swedish mountains. Up there I'm staying at a great hotel called Hotel Tanndalen and I'm fully supported from them so I can concentrate 100 % on training and recovery.
I do mostly cross country skiing but at the hotel they also have a pool, gym, indoor bikes, treadmill, rowing machine and a full test center so it's easy to get all the training done for triathlon base training. And when I'm to tired to train I just hang out in the sauna or hot tub :)
My body are responding better and better on my training but I still have to be careful so I don't put to much stress on it, I still need a little bit more recovery than earlier but I get stronger and stronger. Not sure if I will be able to, or want to, race any Ironmans this year, maybe later in the year. Even if I feel I'm slowly getting back to good shape I'm not sure if it's smart to race an IM this year before my health is 100 % and I don't want to race until I'm atleast sub 8.30 shape either so.... but hopefully I will be able to race some shorter races and continue to strengthen my body.
I feel like it's easy to get to excited when things are starting to go well but I'm trying to be smart and see long term, if I can be patient and wait with my IM comeback until I'm 100 % than I will have many nice, fast, years of racing in front of me, but if I get back to hard long course racing to soon I feel like it's a chance that I will break down my body again and I don't want to take that chance. But I'm very excited about the future, my body and I will be best buddies in the future now when I have learned to listen to him :))
Take care and I write soon again,
Clas
---
December 17:th-08
Almost Christmas, good times :)
I just came back to Sweden after 3 weeks in the States, I went with a Swedish friend and did Florida, day and night for 2 weeks :), from Miami, down to Key West and back, was a lot of fun!! Then I flew up to Gordo in Boulder to see him and his family for a week, he had a birthday party that weekend I was there so I got to met many of my friends from the states which brought up some good memories :), and I got to do some training at altitude which always make you very honest to yourself when you train :)
I miss being able to push my body and mind for 100% but I'm slowly getting there, to be realistic we are probably looking for another year before my health is 100% back but I'm happy where I'm at now for the moment, a year ago I could almost not train at all, and now I'm able to get daily workouts in so I'm getting there, just have to enjoy every step back to full recovery...... and to be in Florida and see Gordo and the guys gave me a big push in the right direction.
Yesterday I did a speech about what I'm doing, training, nutrition...... for a company close to where I live, was a lot of fun and I think they enjoyed it too, something that I want to do more in the future for sure.
Then a magasine called Kollega did an interview with me a few weeks ago, it's all in Swedish but the pictures are great, you can take a look at it at this link, and it's page 22 to 27. www.kollega.se or directlink www.e-magin.se
Think that's it for now,
Just want to finish this update to wish you a Merry Christmass and a Happy New Year and I see you again in 2009!!
All the best,
Clas
---
November 4:th-08
Hope you all is doing well.
Since my last update, that I wrote after winning my gold at the swedish championship in duathlon, it have been kind of up and down, depending how you look at things.
I was planning on to use this fall to work hard to improve my swimming, but after I few weeks my body just stopped responding to the load I put on it so I decided to take a break from hard training for a few month and do some work at the local school instead. So that's where I am at the moment, but I don't feel to bad about that. I have gotten used to the idea that it takes a long time to recover from adrenal burnout so I just have to listen to my body and do what it tells me to do, and I get to earn some money and teach the kids a few good things to in the meantime :)
But I'm very excited about my come back to professional racing again in near future but the slower I can make it happen the longer I will be able to enjoy and stay in the top of the game without taking the risk to drive my body to hard again. But to speed up the process a little I'm going to take a few weeks holiday in end of Nov and Dec to visit a swedish friend in Miami and also spend a week up with Gordo and Monica in Boulder, I really miss spending time with Gordo, from -02 to -04 we probabaly spent over a year togheter and we both got a lot of good training out of that, not sure if we can repeat that but it will be nice to hang out a little again, maybe without any training, if possible ? :)
Guess that's it for now. I wish you a great fall and we will be in touch soon again,
Take care,
Clas
---
September 22:nd-08
Hi all.
Yesterday I raced, and won the Swedish Championship in duathlon ( 10 K run, 40 K bike, 5 K run ).
I have 4 gold medals in duathlon from previous years but last year I wasn't able to compete at all due to my overtraining and adrenal burnout, so it was a great feeling to now be back out there and able to win the race and get the gold again.
Over the last 2 month I have been able to come back and race a few smaller races here in Sweden but I wasn't sure that my fitness should be good enough to win, but already in the first 10 K I was able to get a 40 sec gap. I started out on the bike pretty relaxed as the 2:nd run is my strongest leg in a duathlon and I knew if I was able to stay close to the lead coming of the bike I should be able to win, but none was able to close the gap and I kept my 40 sec lead through the bike leg. But even if I felt like I controlled the race it doesn't take more than a cramped up hamstring to lose the race so I kept the pace up through the last run until just the last few 100 meters to the finish where I slowed down and enjoyed my victory and comeback to the national top in the sport.
Even if I still have some work to do before I can race a 8.15 Ironman again this was a good indicator that I'm on my way back to full recovery after my illness and on my why back up to professional racing again.
Now I'm enjoying some easy days before I will get going with a good training rutine to build a good base for an 8.14 Ironman next year :)
But here is the top 5:
| | | | | |
| --- | --- | --- | --- | --- |
| | Run 10 K: | Bike 40 K: | Run 5 K: | Total: |
| 1.Clas Björling | 32.59 | 58.36 | 16.58 | 1.48.33 |
| 2.Christian Månsson | 33.38 | 58.35 | 17.16 | 1.49.29 |
| 3.Kristian Hallsten | 35.00 | 57.53 | 17.50 | 1.50.43 |
| 4.Petter Persson | 35.39 | 57.11 | 18.41 | 1.51.31 |
| 5.Pasi Salonnen | 34.07 | 59.09 | 19.09 | 1.52.25 |
Attached are a few pictures from the race
Just want to end this update with a big hug to all my sponsors and all the other kind people that makes it possible for me to focus on my comeback to the sport.
Best regards
Clas Bjorling
www.clasbjorling.com
---
August 27:th-08
Hi all,
Hope you have had a great summer.
My summer have been pretty good, my own health have continued to improve so I have been able to do some shorter races that have gone well, both some triathlon and running races.But I wont do any long course races this year, I will instead focus in improving my swimming so I can compete better over shorter distances in the future, and also to make my long course races mentaly easier if I don't have to try to catch up for 8 hours, better if I can just ride with the guys from the beginning then leave them behind during the run :)
The sorrow and loss of Kristy is still hard to deal with but I'm slowly starting to learn to live with it, and the fact is that it's nothing I can do to change the fact that the excident happend, so I'm instead trying to live my life, if not in respect to Kristy who lost hers. This can be easier said than done but the last things Kristy wanted was to see me laying here feeling sorry for myself so I'm trying to find some energy in that she is kicking me out of bed every morning so I can live my life to the fullest,and when time is right we will catch up again, so I'm trying to do that with Kristy in my heart.
So after all these hard things that have happend in my life that I'm now working myself through I hope it can be enough for a while so I can continue to improve my health, and if things continue to improve as they have I will definitely be back for real next season. It has been very nice and fun to be back on the race courses already this year, I love the feeling to compete out there, I get a kick out of it that is hard to get elsewhere.
Now I'm looking forward to the calmness that the fall brings with it where my focus will be swimtraining and some running races if my fitness stays with me.
Hopefully it wont be 5 month until my next update but I'm sure you understand that my focus have been elsewhere, but now I hope I will be able to have more positive updates to share with you in the future to come...
The photo is from a hillrunning race I did, the race was just 2.5 K but had over 300 m of vertical gain, so it was UPPHILL :), but a lot of fun.
Take good care of yourself and I will write soon again,
Clas
---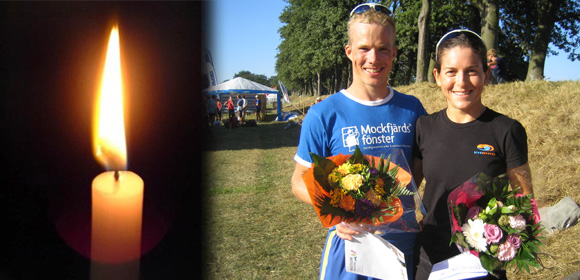 March 20:th-08
Not sure what to write, it's with deep sadness and a total emptyness that I'm trying to put togheter a few lines to tell you, that don't already now, that my longtime girlfriend and best friend Kristy Gough past away in a bicycle excident March 9:th when she was training in the San Fransisco area. One more cyclist died in the same excident.
Here are some links for you that want to read more about the excident, and for you that didn't know Kristy but want get a little feeling for what a great person and athlete she was.
As soon as I heared about the excident I flew over from Sweden so I could join in on the memorial cermoni and try work through and to absorb the whole terrible thing, but now it's 10 days since the excident and I'm still in the states trying to support the rest of hers great family, see our friends here and just to hang out in this great area to work through my mind, but my brain just don't want to except that this has happend, it just doesn't seem real that I will never be able to hold her again, not in my life here at least. In my broken english I say, This is crazy..
As it looks like now I'm heading back to Sweden on Tuesday to keep working with my sorrow.
My own health have gotten a lot better over the last month but I don't care much about that right now.
It's not much more to write more then that I feel good support from everyone around me, a BIG hug to all of you, it means a lot to me even if it's hard for me right now to show an appriciation. Hopfully the pain and emptyness will lighten as time moves on and be replaced with all the great memories I share, and will always share with Kristy and some kind of appriciation that I got to know her closer then most people on this earth, even if I feel hopeless right now.
You will always have a special place in my heart and mind Kristy !!
Hugs,
Clas
---
January 10:th-08
Now we can finally put 2007 behind us and we have a new exciting year in front of us. Personally I don't think it can't be much worse then what 2007 was for me. But even if I didn't achieve much to racing results I did learn a lot about other things that will benefit me for the rest of my life in and outside the sport and that is still something good I believe.
It has been a few month since my last update but not much has happen over here. I still work at the local school even if I take a break now and then to spend some time up in the swedish hills where a friend of mine owe a hotel.
I will keep working at the school for a few more month but hopefully later in the spring be strong enough so I can come over to do some training in the states.
My recovery keeps going slowly in the right direction, 2 steps forward and one back. I still figure out new things about my body and how in the best way recover from my overtraining which is kind of an exciting learning process but I wish it could go a little bit faster. But they say that efter a real adrenal burn out it can take up to 2 years to recover so I'm happy I'm almost one year into it :)
It's a new article posted on Gordos website http://www.gordoworld.com/alternativeperspectives/ that I have written. It's about what to do if you have to take a break from training and racing.
Stay healthy and enjoy life.
Cheers
Clas
---
November 10:th-07
Now the winter have arrived for real here in Sweden where I live, it's white and nice outside and I hope the cold weather continues so the snow stay here.
Since my lasy update I have been working even more at the school here as an assistent, I really enjoy the work and will continue to work there until Christmas. It's fun to be around these teenagers and they keep my mind busy with other things then training and racing which is great for my recovery right now :)
Last week the school had "fall holiday" so we was off for a week. So the first half of the week I spent up in the Swedish mountains, did some training and relaxt a lot. And the 2:nd part of the week we had a training camp with the Swedish triathlon team. It was fun to meet up and do some training together, my long course team mates wasn't able to join the camp due to theirs races at IM Florida and Clearwater but I had great time with the short course athletes. It's fun to get a small taste of good training and what it's like to be around hard training athletes again, was a while ago and I can't wait to go out there and train and race my ass off again.
I have written a new article to Gordos site http://www.gordoworld.com/alternativeperspectives/ , this article is about how to avoid overtraining and what I have learned from my experiance. It might take a few days or weeks before he put it out there, but be patient, it will happen :)
I have also put a few new pictures on the link pictures above. I went on a motorcycle trip to Norway this last summer so one album is from that trip. The other album is some random pictures from 2007.
So for now my life is moving on in a pretty good harmoni with the work at the school during the weekdays and then I mix in some training at night and on the weekends. This is the time of the year when I help my Dad to bring home wood so we can heat up the house for another year, so a few weekends we have spent out in the forrest, and it will be a few more weekends before we have enough. To be out there in the forrest is the best training I can think of for my body and mind. I get a great physical workout but at the same time I heal my mind and get a lot of fresh air. You should try it. It's like hard yoga :)
Next week I'm going to take a few days off from school and drive up to the Swedish mountains again to visit the athlete project I'm involved in. They have a lot of cross country ski tracks up there which I really like doing and cross country skiing is great supplemental training to triathlon. I used to do a lot of skiing 6-7 years ago but then I started traveling to New Zealand to be able to do triathlon training, but this winter my plans are to spend a little more time here in the winterland.
You have a few live webcameras over the ski area/town up in the hills where I going to visit, here are some links: http://www.hamrafjallet.se/webkamera/webcamtop.htm
So my recovery keeps going in the right direction, and now when I have found a more balanced life with the work at the school I can feel that my recovery is even better which is very exciting.
Take care.
Best regards
Clas
---
September 30:th-07
Hi all.
The fall has arrived for real in Sweden, this is the time to take a deep breath and recharge the batteries after for most people a hectic long summer.
The picture is taking here, 2 weeks ago when I was visiting an athlete project that I'm involved in that are based up in the small swedish hills/mountains and the first snowfall came.
A few people have bought a hotell up there and are turning into an "athlete village" so both Pros and age groupers can stay there and train with full support and also have coaches, massage therapists, lactate testing.... available. In the winter time it's a perfect place for cross country skiing, it's hundreds of miles of ski tracks in the area and if you need to do some triathlon training they have indoor bikes, a treadmill and a pool to. In the summer time you have great trails to run and ride mountainbike on if you want to go off road, it's a beautiful place, so nice and quiet but have all the energi from the surrounding hills. Theirs website has just a swedish version but if you want to look at some pictures the link is www.sportsupportcenter.se .
My strenght have come back even more since my last update, I have been able to do some hard, shorter sessions and even some 3 hour+ rides which is big for me at this point. I need a lot of recovery after the long rides but nothing else havent been expected either.
Last week I started a longer break from hard training just as I do after every session. I have been stepping up my training over the last 3 month and even with a few rest days every week and focus on recovery every 3:rd week I still feel like I need a longer break to make sure that I don't do to much to soon. My coach, Matt Dixon at enduranceptc.com and Dr Morgan www.drcamphealth.com/, are great to work with and are helping me make the right decision so I can make make my way back to racing as safe as possible.
While I'm taking this break from hard training I'm taking the opportunity to do some teaching at the local school and I have also joined an english class to practise my english. Even if my english have got much better over the years I know I still have some work to do, especially with the grammatics, and if I can learn a few more words to that's great. And to be fair I can see that if I want to recover as fast as possible I sometimes have to take step away from my training,racing focus and just do some other things, and what can fil that function better then noisy students and some english :)
Then I have written some more articles that are posted on Gordos site http://www.gordoworld.com/alternativeperspectives/ if you feel like reading a little.
Other things that I'm doing is that I still use my Bemer3000 magnetmadrass a few times a day, and I'm also trying a product namned bestway that are some kind of oxygen your drop in a glass of water a few times a day. I will try to find a good link so you can read about this yourself. Both these products are working with the cells in the body and I find them pretty interesting.
So now I'm taking some well-earned rest, I can feel all the way out in my toes that 2008 are going to be an hectic year, so I better make sure that I enter the year full of energy :) Take a hot cocoa and get under the blanket, it's fall !
Best regards
Clas
---
August 20:th-07
Hi everyone.
Just want update my site to tell you the great news that I have made it back to the racing circuit, it was last Saturday I raced a local triathlon race here in Sweden,the distances was 350 m swim, 12 K bike and 4.4 K run, a little different from IMUK that was my last triathlon last year before I completely fell over the edge with my overtraining and my virus.
It's have been a long year so it was very nice to just make it to the start line at this race, this was one of the last triathlon races in Sweden for this summer so it was nice to be able to get a race under my belt now when we enter the fall.
I have been able to train 4-6 hours a week for the last 6-7 weeks after been completely off for 5 month before that so I was very surprised how good my body felt during the race. Of course I didnt have the top speed endurance, or any real top speed at all but I found a got rytm during the swim, exited the water in 4:th place, on the bike I moved up to 2:nd place, started the run 40 sec or so behind first place but was able to find my old running legs and run him down the last 2 K and win by 39 sec.
Of course it was nice to win the race but the biggest victory was just to be able to do a triathlon again. I still have to be very careful how much stress I but on my body and take one step at a time, but consider that it was "just" 7 month ago I wasn't even able to leave the house for a few weeks because my body was so run down I have to say that I have come a LONG way back. I guess I'm about 80 % recovered, but with this race under my belt I have got even more energy to keep doing the right things to improve my health back to 100 % so I can train and race at a professional level again. And probably already in the 2008 season.
Results: 1. Clas Bjorling 42.59 min 2. Nico Axelsson 43.38 min 3. Erik Desmeules 44.34 min
I attached a picture from the run. For more updates during the fall please look at my website www.clasbjorling.com
Thanks for your great support !!
//Clas Bjorling
---
July 17:th-07
It was almost a month ago since my last update, and I'm happy to say that my energy just keeps going up every week. I'm now stabil on 5-6 hour training weeks and I'm able to recover well and just get stronger and stronger.
I was able to find a lab in Denmark that could help me to organize all the complicated test I did in the States during the winter so I could follow up with new tests to see how my body are recovering without having to travel to the States, and it looks pretty good. It's amazing how much information these test can give you.
Fot the last 6-7 weeks I have been using a Magnet carpet/madrass that are called Bemer 3000 and I'm amazed how it have helped my recovery. Pretty interesting how energy fields effect the body.
As you can see on the picture above I have got myself another vehicle that help my recovery and that I can do my meditation with :)
It's a great feeling to be back into a training rutine, I can not believe that it have been almost 11 month ago since I raced Ironman UK and I was never able to recover and I got into this big, black hole. I will never push my body that far again, I will train myself tired, and race myself tired, but I will put in much more recovery time in my training and racing schedule in the future, and the exciting thing is that I think that will make me to a faster and stronger triathlete. For the rest of the year I will slowly add some hours and intensity to my workouts but a lot of focus will also be on the recovery.
I'm also writing some articles about different things to one of my best friends, Gordos website, you can find the first one on his site http://www.gordoworld.com/alternativeperspectives , I will also put these articles on my site but for now you can find them there.
I hope you are enjoying the summer, the warm weather havent really arrived in Sweden yet but it will come.
Have a great summer.
//Clas